Mrs. Sacha Guitry, aka Yvonne Printemps (25 July 1894 - 19 January 1977), was a much-beloved French actress. Working on stage on screen, she was known for her operatic voice. Lovely (watch the link and you'll understand), she began her career at the tender age of 12 at La Cigale, becoming a Folies Bergere dancer by 13. Her stage name, Printemps (meaning springtime), was given to her there because of her delightful disposition. Yvonne appeared in 10 films. One of the things she is mainly known for is her 1919 - 1934 marriage to French actor Sacha Guitry.
Guitry and Printemps in Mozart
Sacha Guitry (21 February 1855 - 24 July 1957) was a famous French actor, director, writer, basic theatrical wizard. Married 5 times, his then wife Charlotte spotted Yvonne in a play, tipped off Sacha that Yvonne was a fantastic actress, and naturally he saw more in her than just her acting skills. I found Sacha himself quite an intriguing figure. He is apparently quite controversial historically. He was accused of collaborating with the Germans during World War II and was arrested. There wasn't enough evidence of a crime, so they advertised in the paper for people to come forward with information to try to convict him. No one came forward, so he was released. Unfortunately - and quite understandably so - this deeply affected him for the rest of his life. And even though he was never convicted, he was damaged goods. Again, I completely understand this. In the world today, an accusation is enough to convict. I feel terribly empathetic towards his plight. Only recently have film buffs started to actually look at his work again with a somewhat open mind.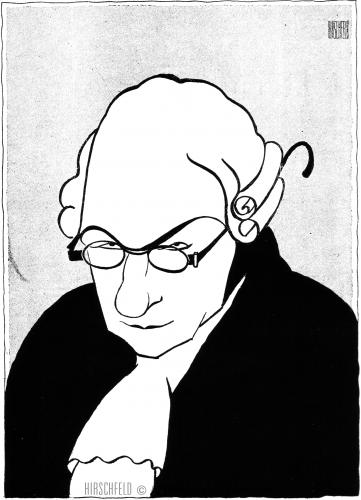 Sacha Guitry by Al Hirschfield; 26 December 1926
A cool bit of trivia - Sacha Guitry was the subject of famous cartoonist Al Hirschfield's first theatrical cartoon. He saw his first play in America. Hirschfield doodled Guitry's image on the program. The press agent for the show loved it, and it was published on the front page of the New York Herald Tribute on 26 December 1926.
Some great Sacha Guitry quotes:
Asked if he actors could be 'natural and spontaneous' he replied, "We are good enough actors to pose in a natural and spontaneous way"

"You can pretend to be serious; you can't pretend to be witty"

"The little I know I owe to my ignorance"

"When a man steals your wife, there is no better revenge than to let him keep her"

"The best way to turn a woman's head is to tell her she has a beautiful profile"
Guitry and Printemps marry 1919;
George Feydeau & Sarah Bernhardt witness
A side note, Raymond Voinquel, the man who took the lovely photograph of Yvonne, was one of the best known photographers of French film stars. They all went to him and he was the main still photographer on 54 films over a 40 year career from 1936 to 1976, including the iconic Belle de Jour.