Films I've Viewed
Rhoda Fleming, Sally Forrest, and Ida Lupino in While the City Sleeps (1956)
While the City Sleeps (1956) - Dana Andrews (as Edward Mobley), Ida Lupino (as Mildred Donner), Rhonda Fleming (as Dorothy Kyne), Sally Forrest (as Nancy Liggett), Thomas Mitchell (as Jon Day Griffith), Vincent Price (as Walter Kyne), Howard Duff (as Lt. Burt Kaufman), George Sanders (as Mark Loving), John Barrymore Jr (as Robert Manners). Great all-star cast picture. Following the death of his father, Walter Kyne creates a contest in which the heads of his multiple press divisions go head to head to win the job of leader of the company. What becomes the test is finding out who the "Lipstick Killer", ably played by Barrymore, is. It was a fun look into how newsrooms used to be: the busy out-scooping dog-eat-dog world of news. The only person I wasn't a fan of was Sally Forrest as Nancy Liggett. Everyone around her completely out-acted her. She stuck out as a sore thumb. Not intriguing, but supposed to be the girl everyone wants. Just blah.
I Am a Thief (1934)
I Am a Thief (1934) - Mary Astor (as Odette Monclair), Ricardo Cortez (as Pierre Londais). Fun missing diamonds caper set on the Orient Express. Sort of Agatha Christie-ish. Enjoyed every minute of it.
Private Detective 62 (1933) - William Powell (as Donald Free), Margaret Lindsay (as Janet Reynolds), Ruth Donnelly (as Amy Moran), Gordon Westcott (as Tony Bandor). Powell plays Donald Free, a disgraced Diplomat turned detective. Once the business thrives, he finds out that the agency is involved in some shady business. But when he gets a job trying to get money back from a winning roulette player, it causes him to re-evaluate his plans and fall in love. Well acted, I wish the love story progressed more logically.
Murder My Sweet (1944) - Dick Powell (as Philip Marlowe), Claire Trevor (as Helen Grayle), Anne Shirley (as Ann Grayle), Otto Kruger (as Jules Amthor), Mike Mazurki (as Moose Malloy). Raymond Chandler is a Noir genius! Dick Powell, doing a 180 in his roles, plays Detective Philip Marlowe. He does a wonderful job. Otto Kruger plays the perfect villain. Frankly, he's great in any film he's in. The drug scene is way ahead of its time. I'm surprised they got it past the censors. I have seen and listened to this on the radio so many times I know it practically by heart. It's great every time. A fantastic film and radio play, I watch or listen to it at least once a year.
Gentleman's Fate (1931) - John Gilbert (as Giacomo Tomasulo/Jack Thomas), Louis Wolheim (as Frank Tomasulo), Leila Hyams (as Marjorie Channing), Anita Page (as Ruth Corrigan), John Miljan (as Florio). Friday was Louis Wolheim's birthday so TCM showed several films he starred in. Louis is a character actor. He looks and acts the tough guy who looks like he's been in a fight or two. It was a great excuse to show several early films. Louis Wolheim was brought into film by Lionel Barrymore who say his face and thought he would be a star. It's much the opposite today - those with character are shunned, those whom are "hot" are beloved - regardless of talent. Louis played the recently found brother of Jack (or Giacomo), a society man who finds out he is secretly the son of an underworld bootlegger. This was an interesting B film. It is one of the last films John Gilbert appeared in as well as one of Louis Wolheim's last films. The film is worth seeing for those reasons alone. Everyone did a great job in the film. Watching it, I don't understand the idea that Gilbert couldn't act in sound films because of his voice. His voice was fine and he acted marvelously. It saddens me that he is not appreciated more.
Third Finger, Left Hand (1940) - Myrna Loy (as Margot Merrick), Melvyn Douglas (as Jeff Thompson), Raymond Walburn (as Mr. Sherwood), Lee Bowman (as Philip Booth), Bonita Granville (as Vicky Sherwood). Myrna plays Margot Merrick, head of a magazine. She thinks the owner's wife will fire her if she knows Margot is single, so she invents a husband. A mistake aboard a ship leads Margot to Jeff Thompson, an artist. I simply adore Bonita Granville, so it was fun to see her playing Margot's sister, Vicky. A fun comedy of errors, and a sweet film, I definitely enjoyed this fun 1940's comedy. It was also great because in a wedding scene, the Reverend gave wonderful advice, still timely, that I use in my marriage: "Never go to bed angry". Good advice stands the test of time.
Terror By Night (1946) - Basil Rathbone (as Sherlock Holmes), Nigel Bruce (as Dr. Watson), Alan Mowbray (as Major Duncan Bleek/Colonel Sebastian Moran), Dennis Hoey (as Inspector Lestrade), Frederic Worlock (as Professor William Kilbane/Professor Moriarty). Fun, Sherlock Holmes adventure on a train. Sherlock and Watson are in charge of protecting the Star of Rodesia diamond on a train ride to Edinburgh. Some of the fun villains of the Sherlock Holmes universe are on the train including Colonel Sebastian Moran and Professor Moriarty. I adore Sherlock Holmes. To me, Rathbone is Sherlock and Bruce is Watson. I love them in the films and the radio show. When someone else plays them, there's always a moment where I'm wondering where Rathbone and Bruce are. This is a timeless tale which definitely holds up. I wish there were better surviving prints, but I otherwise love it.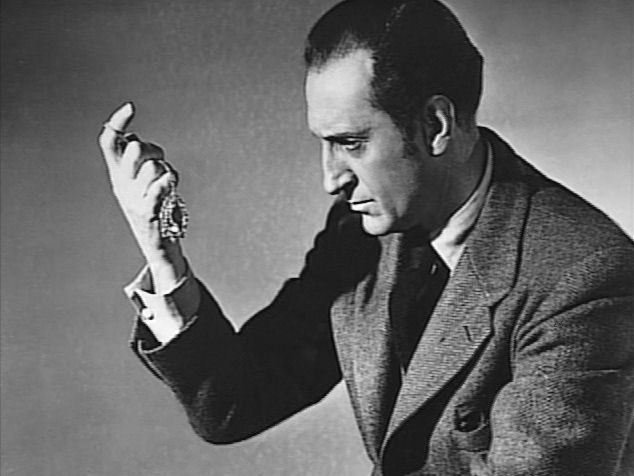 Basil Rathbone and the Star of Rhodesia
When Queen Elizabeth II first became queen, she was the picture of chic. Her clothes these days are great for her age, but not necessarily the best for a younger person. GlamourDaze has a wonderful post about Norman Hartnell, the Queen's Courturier. There are also some amazing sketches accompanying the post - each a work of art. I had never heard of him, but he is well worth remembering.
Variety has a great article about a partnership to bring to light more lost silent films. I adore early films, so this is wonderful news. Time is not on our side in this quest. We can only hope more will be unearthed soon.
Koko's Queen (1926)